"Can I hack the system and be a maximalist with a minimum amount of clothes?"
I always dreamed about the convenience of having a 'capsule' wardrobe. But then I also thought, 'capsule' wardrobe only belongs to some group of people with certain aesthetic and style: the minimalists. I didn't think it could work on me, a person with the necessity to wear at least 3 colors and pattern clash on every outfit. What I wear affects me directly; my colorful hair is a pick-me-up every morning I wake up, my polka dot shoes lighten my mood each time I look down when I walk. It makes me gloomy just imagining if I have to live my daily life wearing the same essential outfit everyday. Is having a capsule wardrobe impossible for people like me? Is there a way which I can hack the system and be a maximalist with a minimum amount of clothes?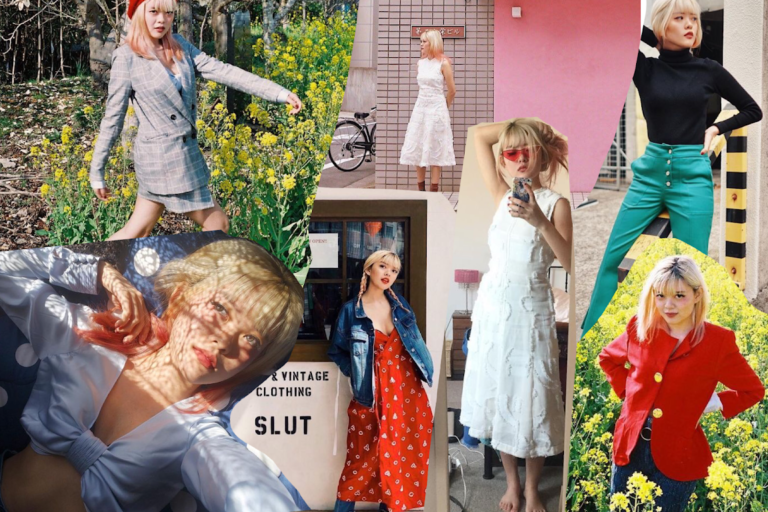 During my trip to Tokyo in spring for a whole month, I challenged myself to bring the lightest baggage possible and survive with it. I am pretty confident with my packing skill & self-control ability. These items I packed into my suitcase are not necessarily the most basic and the easiest to mix and match, but these are the last things that could bore me out if I wear it multiple times in a month, and that's what's important. From what I learned through this experiment is that the key of capsule wardrobe doesn't always have to be all basic stuff, but you have to mix in the signature pieces that makes the wardrobe yours. You know, don't forget to bring the fun stuff, too! So what if you're caught with repeating outfits, it's almost like a treasured skill in this fast-fashion world.
Here is the breakdown of what I packed and wore for a month:
Packing list for a month of events and going out:
TOPS
#1. Stripe long-sleeve top
#2. Satin blue top
#3. Black turtleneck
#4. Balloon long sleeve shirt
BOTTOMS
#5. Pencil blue jeans
#6. Bright green bell-bottom pants
#7. Vintage smocked denim
ONE-PIECE / SET
#8. Midi white dress
#9. Bright red Kasmaran dress
#10. A checkered blazer-skirt set
#11. Patrick Owen Tartan Dress
Outerwear
#12. Faux fur coat
#13. Denim jacket
#14. Blue parka raincoat
Shoes
#15. Black boots
#16. Bright red heels
________________
Usually I go out 1-2 times a month, so it wasn't that hard to look for outfits, but this month was the most event-packed and outgoing I ever had to be, so the experiment was totally worth it!
Coming clean, what I shopped during my Japan trip are: 3 vintage outerwear, 1 pair of smocked denim, and 2 pairs of shoes.
All of them are thrifted! And to be fair, in total of around 20 articles I packed,
I found unlimited outfits to wear daily, all from
1 half empty-half full suitcase
. From this experiment, I learned that what overwhelmed me into picking outfits are the unlimited CHOICE of articles. Going back home, I would even do this capsule wardrobe thing when I don't travel, it just shortens my time to get ready when I only have
a suitcase of curated pieces of clothing, not a whole messy wardrobe.
As a maximalist, I do recommend you to give a capsule wardrobe a try!