A guide on surviving fashion week when you're broke.
"So, is it possible to survive a fancy event without breaking the bank?"
It's again the fashion week season, and if you are like me— at home scrolling through fashion week & street style updates in pajamas instead of cleaning the messy closet I've been all putting off since the last century, boy oh boy, do I have a fun idea for us to try. Inspirations are endless, but that doesn't mean you have to keep adding new stuff in your closet. You might not realize some of those cool street style outfits could be hidden in your closet all this time. It just needs a little bit of imagination to make your old pieces look new.
We all have those particular items in the closet that is too good to throw away, but too weird to be worn in public. In this scenario, THAT will be your 'fashion week' outfit. (Here are some throwbacks of my outfits in New York Fashion Week sporting some thrift store items and stuff I made myself.)
So let's pop the big question, is it really possible to survive a fancy event such as fashion week without breaking the bank? Better yet, let's do a little game; I will put together some outfits for you to guess which one is the thrifted items.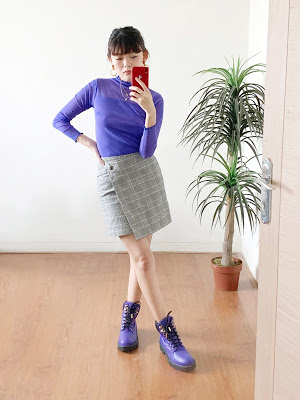 Case #1
I never really worn this purple boots anywhere, yet I strangely have two boots with similar style, so that tells that my brain thinks it's cute but can't figure out the right occasion to wear it. Apparently it's my favorite color according to my subconscious thinking, it's not that hard to find another piece in my closet in the same color palette: this top. Color-coordinating makes what you wear more purposeful, like you just bought a set of a collection.
Pair it up with a pair of statement earrings, layer it with outwear, or a quirky beret hat, and you're good to go. Which one do you think is the thrifted piece?
If you guessed right, congrats! The thrifted top costs around $1.5, and I paired it with H&M skirt from 3 years ago. If one pop of color in an outfit works, try to experiment with two.
I don't know which part of this outfit brings me the most joy: the rainbow smocked top, the ski hat, the fact that I wear three different colors and textures in one outfit that doesn't make sense but looks pretty cute to me. I never thought pairing any of this will work, but who really thought??
There are actually two thrifted items in this outfit, and yes, it's always the weirdest ones. The top is a gift from my friend Christio (I find it heartwarming when someone gifted you a secondhand item they spent time sourcing), and the electric blue ski hat was a thrift finding from Pasar Baru around nine years ago.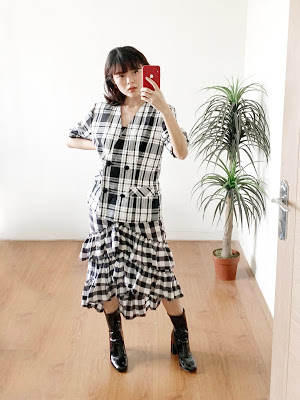 This is probably my most worn top, skirt, and boots, but strange enough I never pair it together. My initial thought is always pairing checkered or tartan motive with with a more neutral pattern, but what about clashing two ALMOST similar patterns together? I'm again aiming for that 'accidentally on purpose' look, and it also looks like a dress from afar, which I also dig.
I think it could be pretty obvious that the blazer is thrifted, but pairing it with frilly checkered skirt in Monki Tokyo turned the old-looking, 'Clueless' vibe blazer into a quirky set piece.
Left picture is me waking up bummed because of so little opportunity I could wear knee-high boots to go out to. Right picture is me after I wiped my tears and hold my head back up, tolerating that wearing lower boots is a little less frown upon in this jungle climate. So, let's put it in the 'fashion week' pile.
Another double thrifted items! Zebra shirt is another gift by Christio, and I found this suede skirt in a thrift shop in Tokyo. While they said combining brown and black leather is a big no, but honestly no one has the right to protest while in this post I'm here breaking so many fashion rules already. I love how the relaxed zebra top with the brown suede skirt gave off an exotic-animal-conservationist-but-make-it-fashion vibe.
Case #5 (This has been fun but sadly this is the last one.)
Multiple patterns in one outfit is giving me a reason to live. Big cat prints beret hat, mod-print coat, and stripe sweater dress, and a grannie clutch. Which one could be the thrifted piece?
Can you believe that I found this gorgeous coat in
Poland's thrift store
where my boyfriend's grandma usually shops, for only
$3
. This is one of the best thrift store deal I made during my thrifting journey. The grannie clutch is a
vintage Vivienne Westwood
that I found in Tokyo.
This whole activity is meant to make us realize that you can always refresh your wardrobe by simply getting creative on mixing it up, recreating new looks from old items. The question reflects back to me that not only I
can survive wearing mostly secondhand items, but the truth is it's harder to live without it.